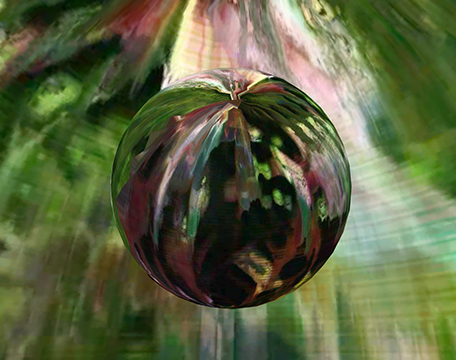 3VR: Liminal Realities is an exploration of visual music and optical illusion. Originally titled THREE²' x '3P2: VR, the piece was first created for UFO Gallery's inaugural Pop-Up show, hosted in the former Perry Rubenstein gallery.

It has been curated into various showcases including the Toronto Film Festival's TIFFxPOP series, Oculus DevLab, Slamdance, SXSW, and VR Scout's VR Art Show, hosted by VICE and Pulse.
Sharsten Plenge of We Open Art Houses describes it as "A meditation on organic and inorganic structures, flickering forms dissolve into lush amorphous glitches and textural, fluid landscapes. Through a site-specific VR journey, these hybridizations become a portal for new cognitive experiences to take place. Abstractions dissolve into acute elements— botanical planets— melding into complex formations as we navigate through visual and aural space. Entering pixelated orbs, we glide through 3D to uncover a surreal hyperreal— a realm just beyond the 'natural' state."
VR audio by Miguel De Pedro aka Kid606. View the preview video here.